With June coming to a close, it's time to start planning any July book hauls you're going to do that might include new releases. There are a lot of great books constantly coming out, but I've taken what I think will be some of the best ones and compiled them here.
By: Sarah Henning
Releases: July 31st, 2018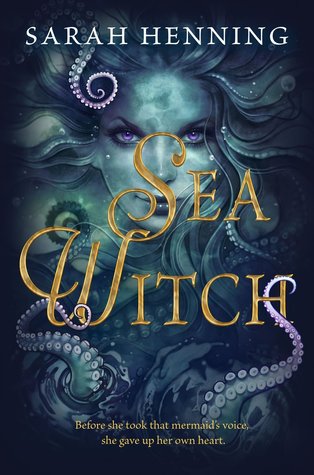 Synopsis:
Everyone knows what happens in the end.
A mermaid, a prince, a true love's kiss.
But before that young siren's tale, there were three friends.
One feared, one royal, and one already dead.
~~~~~~~~~~
Ever since her best friend, Anna, drowned, Evie has been an outcast in her small fishing town. A freak. A curse. A witch.
A girl with an uncanny resemblance to Anna appears offshore and, though the girl denies it, Evie is convinced that her best friend actually survived. That her own magic wasn't so powerless after all. And, as the two girls catch the eyes—and hearts—of two charming princes, Evie believes that she might finally have a chance at her own happily ever after.
But her new friend has secrets of her own. She can't stay in Havnestad, or on two legs, unless Evie finds a way to help her. Now Evie will do anything to save her friend's humanity, along with her prince's heart—harnessing the power of her magic, her ocean, and her love until she discovers, too late, the truth of her bargain.
The rise of Hans Christian Andersen's iconic villainess is a heart-wrenching story of friendship, betrayal, and a girl pushed beyond her limits—to become a monster.
---
By: Kiersten White
Releases: July 10th, 2018
Synopsis:
Haunted by the sacrifices he made in Constantinople, Radu is called back to the new capital. Mehmed is building an empire, becoming the sultan his people need. But Mehmed has a secret: as emperor, he is more powerful than ever . . . and desperately lonely. Does this mean Radu can finally have more with Mehmed . . . and would he even want it?
Lada's rule of absolute justice has created a Wallachia free of crime. But Lada won't rest until everyone knows that her country's borders are inviolable. Determined to send a message of defiance, she has the bodies of Mehmed's peace envoy delivered to him, leaving Radu and Mehmed with no choice. If Lada is allowed to continue, only death will prosper. They must go to war against the girl prince.
But Mehmed knows that he loves her. He understands her. She must lose to him so he can keep her safe. Radu alone fears that they are underestimating his sister's indomitable will. Only by destroying everything that came before–including her relationships–can Lada truly build the country she wants.
Claim the throne. Demand the crown. Rule the world.
---
By: Becky Chambers
Releases: July 26th, 2018
Synopsis:
Centuries after the last humans left Earth, the Exodus Fleet is a living relic, a place many are from but few outsiders have seen. Humanity has finally been accepted into the galactic community, but while this has opened doors for many, those who have not yet left for alien cities fear that their carefully cultivated way of life is under threat.
Tessa chose to stay home when her brother Ashby left for the stars, but has to question that decision when her position in the Fleet is threatened.
Kip, a reluctant young apprentice, itches for change but doesn't know where to find it.
Sawyer, a lost and lonely newcomer, is just looking for a place to belong.
When a disaster rocks this already fragile community, those Exodans who still call the Fleet their home can no longer avoid the inescapable question:
What is the purpose of a ship that has reached its destination?
---
By: Michele Campbell
Releases: July 31st, 2018
Synopsis:
When twin sisters Rose and Bel Enright enroll in The Odell School, a prestigious New Hampshire boarding school, it seems like the opportunity of a lifetime. But the sisters could not be more different. The school brings out a rivalry between them that few ever knew existed. And the school itself has a dark underbelly: of privileged kids running unchecked and uninhibited; of rituals and traditions that are more sinister than they seem; of wealth and entitlement that can only lead to disaster.
For Sarah Donovan, wife of an ambitious teacher who is determined to rise through the ranks, Odell also seems like the best thing that could happen to their small family. But how well does she really know her husband? What lengths will he go to to achieve his goals? And when one dark night ends in murder, who is guilty, who knows the truth, and who has been in on it all along? SHE WAS THE QUIET ONE. Because murderers are almost never who you expect.
---
By: C.W. Gortner
Releases: July 10th, 2018
Synopsis:
Even from behind the throne, a woman can rule.
Narrated by the mother of Russia's last tsar, this vivid, historically authentic novel brings to life the courageous story of Maria Feodorovna, one of Imperial Russia's most compelling women who witnessed the splendor and tragic downfall of the Romanovs as she fought to save her dynasty in the final years of its long reign.
Barely nineteen, Minnie knows that her station in life as a Danish princess is to leave her family and enter into a royal marriage—as her older sister Alix has done, moving to England to wed Queen Victoria's eldest son. The winds of fortune bring Minnie to Russia, where she marries the Romanov heir and becomes empress once he ascends the throne. When resistance to his reign strikes at the heart of her family and the tsar sets out to crush all who oppose him, Minnie—now called Maria—must tread a perilous path of compromise in a country she has come to love.
Her husband's death leaves their son Nicholas as the inexperienced ruler of a deeply divided and crumbling empire. Determined to guide him to reforms that will bring Russia into the modern age, Maria faces implacable opposition from Nicholas's strong-willed wife, Alexandra, whose fervor has lead her into a disturbing relationship with a mystic named Rasputin. As the unstoppable wave of revolution rises anew to engulf Russia, Maria will face her most dangerous challenge and her greatest heartache.
From the opulent palaces of St. Petersburg and the intrigue-laced salons of the aristocracy to the World War I battlefields and the bloodied countryside occupied by the Bolsheviks, C. W. Gortner sweeps us into the anarchic fall of an empire and the complex, bold heart of the woman who tried to save it.
---
By: Lucy Christopher
Releases: July 31st, 2018
Synopsis:
Moss has grown up on the strangest and most magical of islands. Her father has a plan to control the tempestuous weather that wracks the shores. But the island seems to have a plan of its own once Callan — a wild boy her age — appears on its beaches. Her complex feelings for Callan shift with every tide, while her love for the island, and her father, are thrown into doubt…
And when one fateful day, a young man from the outside world washes up on the beach, speaking of the Old World, nothing will ever be the same.