Rating: 
Title: Kingston Court
Author: Holly Kammier
Released: August 20th, 2015
Published: Acorn Publishing
Synopsis:
What happens when you take middle-aged, stay-home-moms, and throw them back into the workforce and dating? A modern twist between Desperate Housewives and Sex and the City, Kingston Court follows the love, lies, and friendships of two wealthy Southern California women.
Samantha and Natalie are at a crossroads. Gorgeous, over-the-top Samantha, hangs her status and her happiness on her "perfect" husband. That is until she learns his secret.
But she's not the only mother on the block struggling. Natalie, nurturing and careful, is thrust back into the workforce after her husband barely survives a horrifying car crash. However, it isn't just her new job co-hosting a national morning news show that keeps her busy. Alik, the hot young production assistant, does everything in his power to seduce the woman he loves.
Death and misfortune in the span of a single year force these two women to rediscover their inner strength and make life-changing choices. Kingston Court is full of scandal, temptation, and all of life's juicy little secrets.
---
My Review:
What happens when you take wealthy women who stay at home and have nothing else to do but gossip? You have a riveting story about some of the real trials of marriage, love and relationships. The women of Kingston Court try to play it cool and have all the greatest parties, but their personal lives are just as fraught with heartache and pain as any other.
We get to follow the story of both Natalie and Samantha as their marriages fall apart in front of their eyes. Natalie and her husband Mark have two children and have suffered their share of unhappiness as they try to stay romantic while raising their children and Mark fulfilling his career. When one fateful night they find themselves the victims of a drunken driver and Mark is in a coma. When he awakens over a month later, he has seemingly forgotten his wife and his children. Feeling alone and heartbroken, Natalie rekindles her emotions with a co-worker.
Samantha, on the other hand, is one of the most beautiful women in town and flaunts her confidence and strong marriage in front of anyone who wants to see. Cameron, her husband starts to work long hours, changes up his behavior and is starting to present himself differently. Samantha realizes that Cameron must be having an affair and Samantha will do anything to keep her husband and happy family together. However, when she finds out the truth, not only will her marriage be challenged, but she will also find herself on a journey of self discovery and growth.
This is a powerful novel full of life lessons and challenges that many marriages face and how women, whether rich, middle class, or poor, can still find happiness and love in their hearts and keep on living life.
---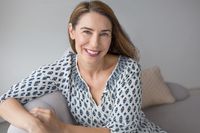 About the Author: 
Holly Kammier is a former journalist who has worked everywhere from CNN in Washington, D.C. and KCOP-TV in Los Angeles, to the NBC affiliate in small-town Medford, Oregon. A UCLA honors graduate, she is the author of the best-seller, Kingston Court, her debut novel.
Choosing Hope, her recently released novel, is a cross-over to Kingston Court with overlapping characters and locations.
The California native and mother of two, lives in San Diego, California close to her family and friends. Co-Founder of Acorn Publishing, Holly is available for speaking engagements and content editing.
You can visit her online at
WWW.HKAMMIER.COM
An E-Book copy was provided to me by RABT Book Tours in exchange for my honest review.