Title: It's Always the Husband
Author: Michele Campbell
Release: May 16th, 2017
Publisher: St. Martin's Press
Links: Amazon | Goodreads | Michele Campbell – Author
---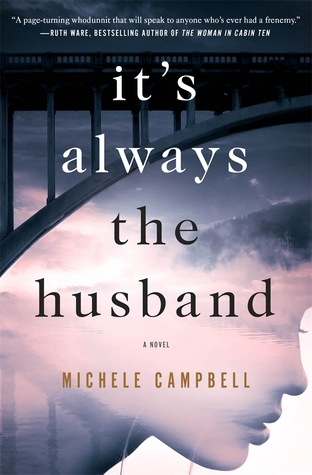 Synopsis:
Kate, Aubrey, and Jenny. They first met as college roommates and soon became inseparable, even though they are as different as three women can be. Twenty years later, one of them is standing at the edge of a bridge . . and someone else is urging her to jump.
How did things come to this?
As the novel cuts back and forth between their college years and their adult years, you see the exact reasons why these women love and hate each other—but can feelings that strong lead to murder? Or will everyone assume, as is often the case, that it's always the husband?
---
My Review:
A true classic mystery thriller has just landed into my possession! As a book lover I have spent most of my time reading crime and/or mystery thriller novels and this was by far one of the must fun to read!
We all know how a toxic relationship can make our own lives even more difficult; remember those friends from college that would peer pressure you into doing things you never really wanted to do, but you wanted to hang with them, so you did it any way? Or the guy you knew that you adored but he wouldn't give you the time of day so you did things you normally wouldn't do just to try and get his attention? We have all fallen prey to "relationship toxicity" and it brings out the worst parts of our character.
Campbell does a profound job at writing about these levels of  toxicity in what is considered to be friendship and love in "It's Always the Husband". Our story begins with an amazing kick-off by starting at a later point in the story where one of the characters, we don't know which, is standing on a bridge and someone is telling her to jump and the entire book works to builds up to this culmination. Then we travel back to the freshman college days of Jenny, Aubrey and Kate. Ostensibly the perfectionist, the self loather and the rich girl. They immediately become best friends even though none of them is really any good for the others. Enter "relationships toxicity"….
Part I of the book spends a lot time covering their freshman year as this was the important foundation period for establishing the next twenty years of their lives and their friendships with each other. Part II then establishes the current timeline and the tragic events that have unfolded in their adulthood.
If I could, I would give Campbell a great big hug and a handshake for how marvelously she laid out the intricate details of this story, the background of every character has amazing depth that lends to understanding the horrible and rash decisions that every one makes, in order to protect themselves or what they hold dear. She has tapped into the importance of what makes us human, what propels us emotionally and psychologically, and lays it out with the perfect head-spinning murder that we all saw coming, but hated to watch happen. The pain that everyone is experiencing over the way their lives have unfolded in front of them and the lengths they will go to protect the life they hold so dear.
A masterfully written novel and I cannot wait for her next book coming July 31st – see the link below!
---
About the Author:
Michele Campbell is a graduate of Harvard College and Stanford Law School and a former federal prosecutor in New York City who specialized in international narcotics and gang cases.
A while back, she said goodbye to her big-city legal career and moved with her husband and two children to an idyllic New England college town a lot like Belle River in IT'S ALWAYS THE HUSBAND. Since then, she has spent her time teaching criminal and constitutional law and writing novels.
She's had many close female friends, a few frenemies, and only one husband, who – to the best of her knowledge – has never tried to kill her.
Find her: Instagram | Twitter | Facebook
---
Don't miss her next book coming July 31st, 2018 – Spotlight: She Was The Quiet One by Michele Campbell