Title: Blind the Eyes
Author: K.A. Wiggins
Release: June 1st, 2018
Publisher: Snowmelt & Stumps
Links: Amazon | Goodreads | K.A. Wiggins – Author
---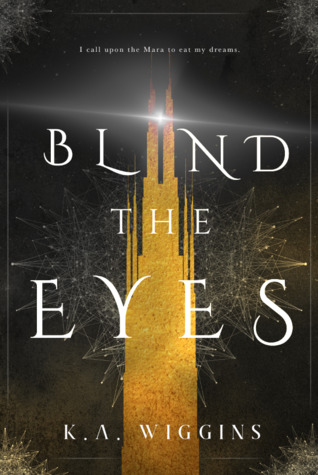 Synopsis:
In a world where hope kills and dreams are deadly, obedience is the only way to survive. But when one girl learns her society's absolute control and guarantee of safety are both illusions, she risks her hard-won status, her home and her life to rebel and expose its lies.
When haunted teen Cole discovers the state's guarantee of safety from the nightmarish Mara in exchange for obedience is a fraud, she realizes hers isn't the only life at stake. Cole needs allies to help her escape execution by nightmare and expose the lies. Now, with a ghost at her back, enforcers in pursuit, and a charismatic rebel leader gaslighting her, Cole must figure out who to trust to bring down the state and stop the dying before the nightmares eat her alive.
A YA dark fantasy about identity, trauma & taking back your choices. Ghosts and world-monsters in post-eco-disaster Vancouver.
---
My Review:
To start off – I had no idea going into this book that it was a Part I of a series! Now I have to wait until next year to read the next installment which I most certainly will be doing.
When I first started reading this book I had a really hard time grasping onto what was taking place. Wiggins writes the entire story in a "dream-like" descriptive state. You'll understand why here in a moment. There is very little description about the surroundings, with most of the emphasis on thoughts, feelings and only on the immediate interactions.
Cole is a drone worker in a place called Refuge. Everyone in Refuge is conditioned not to have emotions, feelings or even to dream about things. They are told that these dream monsters, the Mara, will eat them if they dream. So, Cole, who is a security technician in Refuge, finds herself tasked to investigate a situation on Floor 16, which is entirely unheard of for someone in her position. As she investigates the floor she finds a body consumed by the Mara. Superior level investigators arrive on the scene looking for her and she escapes into a hallway. As she tries to outrun these men she finds the hidden secrets behind Refuge and the power she has that can save people from the Mara.
Most of the story is spent in suspended animation, a vivid dreamscape sequence of places like Freedom where they dress in vivacious costumes, drink gold flakes and party until they are completely spent. The way Wiggins writes about how the Mara infiltrate dreams and horrifyingly kill those that are dreaming had me in awe.
Wiggins is a truly unique writer that can transport a story into not only a fantasy world, but one that is real in its essence and darkly satisfying at the same time.
Throughout the story, Cole is constantly battling information. She learns something new, challenges the information and over time learns she is far stronger and intelligent than she ever cared to give herself credit for. Oh and did I mention her kick-ass ghost that haunts her? Cadence is her ghost, a subconscious voice that speaks to her, mostly annoying her, but also helping her disseminate information.
I can't wait to read the next installment!
P.S. I highly recommend listening to some appropriate music while reading this book. It assists in creating a feel and ambience for these places you'll be reading about. I found Apocolyptica and dark EDM music to provide the proper setting for me.
---
About the Author:
K.A. Wiggins writes YA Fantasy with an edge for ages 14 and up.
Expect more blood than kissing. #monstersandmagic
Her debut novel, BLIND THE EYES, launched in 2018. Join the newsletter at kawiggins.com to get an exclusive free 5 chapter preview ebook and audiobook.
Kaie has been creating urban legends about witches in the back wood and fairies in the snow melt since she was seven years old. She writes prickly mistfits challenging the borders of the mundane, inspired by current stars Brenna Yovanoff, Kendare Blake, and Laini Taylor, and fantasy legends J.R.R. Tolkien, C.S. Lewis, and Madeleine L'Engle.
Born in Vancouver, BC, she freelances as a business writer and marketing consultant in the Pacific Northwest.
Find her: Instagram
---
I was provided a review copy of this book by NetGalley via Xpresso Tours in exchange for an honest review.