Holy cow it's been a busy month so far!
My TBR pile is growing like a field of weeds, but I am elated with the reads that lay before me. Amazing partnerships are starting to bloom and I am being exposed to many new authors and books that I never thought imaginable. As new books start to arrive, I will be sharing them here with reviews and other fun information.
Here's a little look at my upcoming projects:
Becoming Mrs. Smith (Goodreads) by Tanya E. Williams
Release Date: October 10th, 2017
Reading this one in advance of assisting the author, Tanya, with reading and reviewing the next book in this series that releases later this year.
---
The Vestige (Goodreads) by Caroline George
Release Date: June 30th, 2017
Caroline was kind enough to reach out to me to ask for an honest review. I am reading this one right now.
---
HIS (Goodreads) by K. M. Keeton
Release Date: February 28th, 2018
Keeton and I have become buddies over on Instagram and I was lucky enough to win a signed copy of her book and other bookish goodies!
---
There are also a few new books coming out that I recently heard about and want to get it in front of you all. Not only are these covers absolutely gorgeous, but the stories sound captivating, to say the least.
Pembrim: The Hidden Alcove (Goodreads) by Bree Lenehan
Release Date: June 4th, 2018
Synopsis:
There had been whispers of a magical hidden alcove within the Fenix Forest of Ameral Alley for years, but according to legend, no one had ever found it.
Until now.
Seventeen-year-old Halia Bodine, a girl with a medically baffling rare lung disease, begins dreaming of a map that leads her to the hidden alcove of Moa's Rock. In the depths of this magical alcove exists the vibrant underwater world of M'deia, with its hunter tribes, alluring creatures, ghastly beasts, and untouched lands. After a fated encounter with Luka, a M'deian boy in exile from his clan, Halia enters this mythical underwater world. Once there, she learns that her illness ceases to exist, that she loves without reciprocation, and the cold truth of her parents' death.
When her family heirloom — a timepiece cursed with the power to end all lives of the sea's inhabitants — is found in an ancient enemy's wicked hands, Halia soon discovers that this world is not without its own lurking dangers. First, her foe turns the tribes to stone. Next, he wants Halia dead.
When Halia comes face-to-face with her fears, will she finally have the chance to go back in time and save both the stone tribe and her parents from their unfortunate deaths, or will her enemy destroy her and all she holds dear before she can?
Find out in this wondrous tale of friendship, mystery, and sea-crossed romance.
---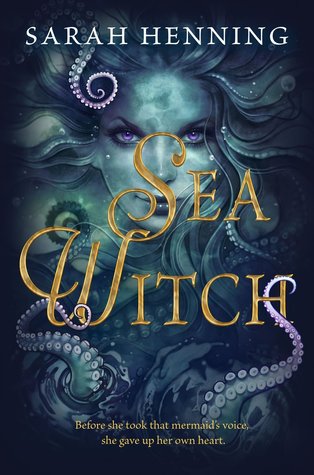 Sea Witch (Goodreads) by Sarah Henning
Release Date: July 31st, 2018
Synopsis:
Everyone knows what happens in the end.
A mermaid, a prince, a true love's kiss.
But before that young siren's tale, there were three friends.
One feared, one royal, and one already dead.
~~~~~~~~~~
Ever since her best friend, Anna, drowned, Evie has been an outcast in her small fishing town. A freak. A curse. A witch.
A girl with an uncanny resemblance to Anna appears offshore and, though the girl denies it, Evie is convinced that her best friend actually survived. That her own magic wasn't so powerless after all. And, as the two girls catch the eyes—and hearts—of two charming princes, Evie believes that she might finally have a chance at her own happily ever after.
But her new friend has secrets of her own. She can't stay in Havnestad, or on two legs, unless Evie finds a way to help her. Now Evie will do anything to save her friend's humanity, along with her prince's heart—harnessing the power of her magic, her ocean, and her love until she discovers, too late, the truth of her bargain.
The rise of Hans Christian Andersen's iconic villainess is a heart-wrenching story of friendship, betrayal, and a girl pushed beyond her limits—to become a monster.